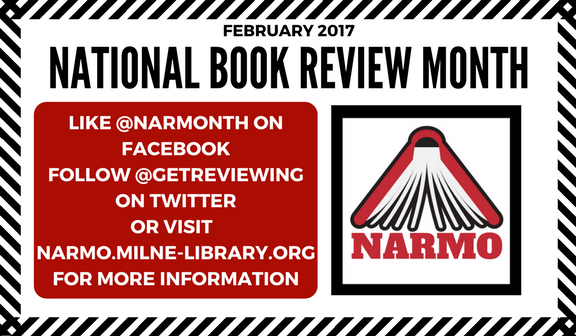 Second Annual National Book Review Month Takes Place this February, 2017
GENESEO, NY – February 1, 2017 – On February 1, 2017 the State University of New York College at Geneseo will commence the second annual National Book Review Month (NaRMo). Students, faculty and community members are encouraged to write book reviews concentrated in the genres of fiction, nonfiction, children's literature and poetry, the length ranging between 100 and 1,000 words. Last year, its inaugural year, saw reviews of books about cremation, Liberia, "modern love," Nordic gods, and 19th century NYC circuses. NaRMo participants submit reviews at http://narmo.milne-library.org/submit-review where they will be electronically published and accessible to readers wanting to find great contemporary writing. Anyone, anywhere can write a review.
There is National Poetry Month, National Novel Writing Month and here at SUNY Geneseo we want to acknowledge a National Book Review Month that celebrates contemporary literature and the art of reviewing it. Dr. Lytton Smith, Assistant Professor of Poetry at SUNY Geneseo and a former publicist for presses including Four Way Books and Persea Books, said "I despair every time I hear about the death of poetry or fiction or books in general; there's more amazing contemporary writing out there than anyone would have time to read, and NaRMo is our way of beginning to help people find the books that are looking for them." Digital Publishing Services Manage at SUNY Geneseo's Milne Library, poet Allison Brown, offers a library perspective: "Libraries know the value of a good review—they allow us to help readers find the right book. Librarians have a long history of contributing to review publications, so Milne Library is honored to support National Book Review Month and encourage readers to speak out for the books that they love!"
To submit to NaRMo and read reviews, visit http://narmo.milne-library.org/
Email: Getreviewing@geneseo.edu
Facebook: https://www.facebook.com/narmonth
Twitter: @GetReviewing
Blog: http://narmo.milne-library.org/category/blog/
Address: 1 College Circle, Geneseo, NY 14454
About National Book Review Month (NaRMo):
NaRMo is a grass-roots organization, based at SUNY Geneseo, dedicated to increasing the number of book reviews of writers from all styles and backgrounds during the month of February each year. A collaboration between SUNY Geneseo's English Department and Milne Library, NaRMo intends to link readers through book reviews and to help initiate conversation about books from an assortment of genres including children's books, drama, non-fiction, fiction and poetry. Classes and Student Activity Clubs at SUNY Geneseo and other colleges are participating, and as we enter the second year of NaRMo we encourage everyone across the U.S. to get reading and get reviewing! Whether it's through the official NaRMo site, via a literary journal, or on an online store: post a review of a recent book you want the world to know about.
Click below to download the NaRMo 2017 Poster:
Click below to download the NaRMo 2017 PostCard: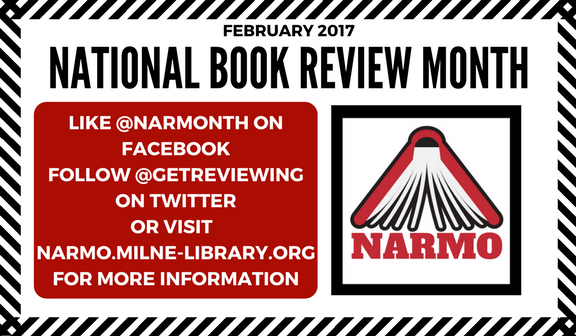 Click below to download the NaRMo 2017 Facebook Cover Photo: